Alexandra McRobert moved to Dubai in her twenties and spent her time indulging in bottomless brunches and unlimited drinks. In 2019 she found rock-bottom and realised that this was not a life she wanted to live. She took up the 28-day challenge to not drink alcohol that transformed into a permanent lifestyle.
While quitting drinking itself was a massive challenge – once she got through the early days of sobriety, she realized that she was so much happier alcohol free. Getting sober alone was rife with its own obstacles, she felt isolated in her journey and found herself seeking community, connection, and spirituality.
Now Alexandra, also known as Sober Yoga Girl, is a former party girl turned international yoga teacher and sober lifestyle coach.
Taking control of her life made her feel empowered and Alexandra wanted to pay it forward by building a community she was missing and created and founded The Mindful Life Practice in 2020 while working as a teacher in the UAE.
The Mindful Life Practice offered women an international Zoom yoga community around the world who are quitting drinking and transforming their lives. Alexandra leads everything from 30 Day Sober Girls Yoga Challenges to full year recovery programs to help sober curious women ditch alcohol for good. She also coaches women one-on-one, with a revolutionary program that addresses the body, mind and soul – and leads Yoga Teacher Trainings.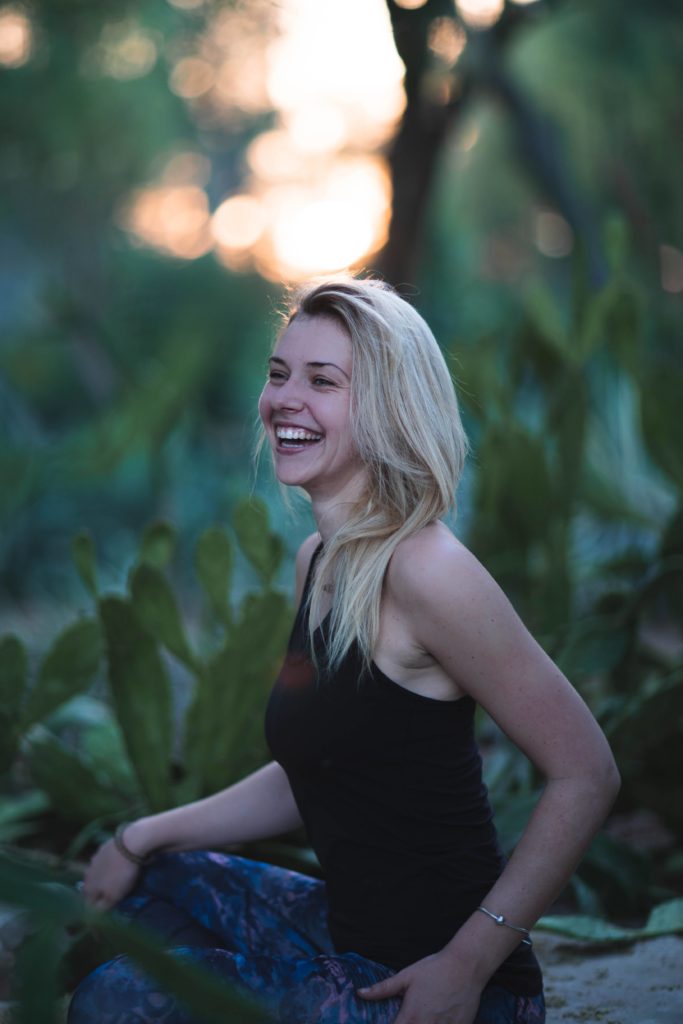 Here are Alexandra's 'Ten Strategies for Going Sober'
Community
The best suggestion and first step to change I can give you is to get into like minded community.
When I wanted to quit drinking, my social network around me was really into partying. I didn't see any other sober people, so I thought I was the only one curious about sobriety.
I encourage you to get into a community that supports you, cheers you on, and inspires you.
One of the scariest and hardest things about making a lifestyle change is thinking that it has to be forever.
I had this black and white thinking around alcohol that kept me drinking for a long time.
You might think, it's all or nothing. I have to be sober forever or nothing at all.
But it doesn't have to be that way.
When I quit drinking I just decided to take a break for a month – and during this time I was so much happier and healthier that I just kept raising the bar and extending it longer. One month became 90 days, became a year, became a life time. If you're looking at making a significant lifestyle change like cutting sugar, coffee, or alcohol, my encouragement is to commit to a short period of time – like one month or two months. When I work one-on-one with individuals I usually encourage a two-month commitment, or 60 days – so that they can really feel the benefits of sobriety.
One-On-One Support to Overcome Fears
Fears can come up when you're moving into unfamiliar territory. As I work with people one-on-one to challenge old thought patterns, create a new identity and try new things, often a fear comes up.
This is normal.
I help individuals develop strategies for handling the fears, so that they can "feel the fear and do it anyway."
You might have one part of you that wants to move forward towards your goal and one part of you that's holding you back.
With my one-on-one clients I use a strategy that leads them to dialogue with these two parts in conflict – the over-eater, versus the one who wants to be healthy, or the drinker, versus the one who wants to be sober.
By overcoming the fears we can move past the one thing holding us back – to step into the best version of ourselves faster than we would on our own.
Choosing Thoughts/Affirmations
The nature of our mind is to dwell on our problems and our failures. In yoga, this is called "kleshas" – a negative mental states that causes suffering to arise. This prevents people from finding freedom.
We need to learn how to recognize and choose our thoughts. We want to recognize destructive thoughts and replace them with positive thoughts. It seems so simple but the reality is it's quite hard.
People often ask me what changed on the final time that I quit partying and it was saying "I don't drink anymore" rather than saying "I want to quit drinking" or "I wish I could quit drinking." It's choosing and changing your thoughts from negative into positive.
Have someone in your life that's going to hold you accountable to your decisions.
Tell the people around you that you're no longer eating sugar, you're no longer consuming caffeine, you're no longer drinking.
If you don't feel comfortable telling the people around you about your journey, then look for a private support who can hold you accountable like a coach.
Someone who you are committed to checking in with along your journey.
One of the number one reasons people fail with change is they try to do it alone.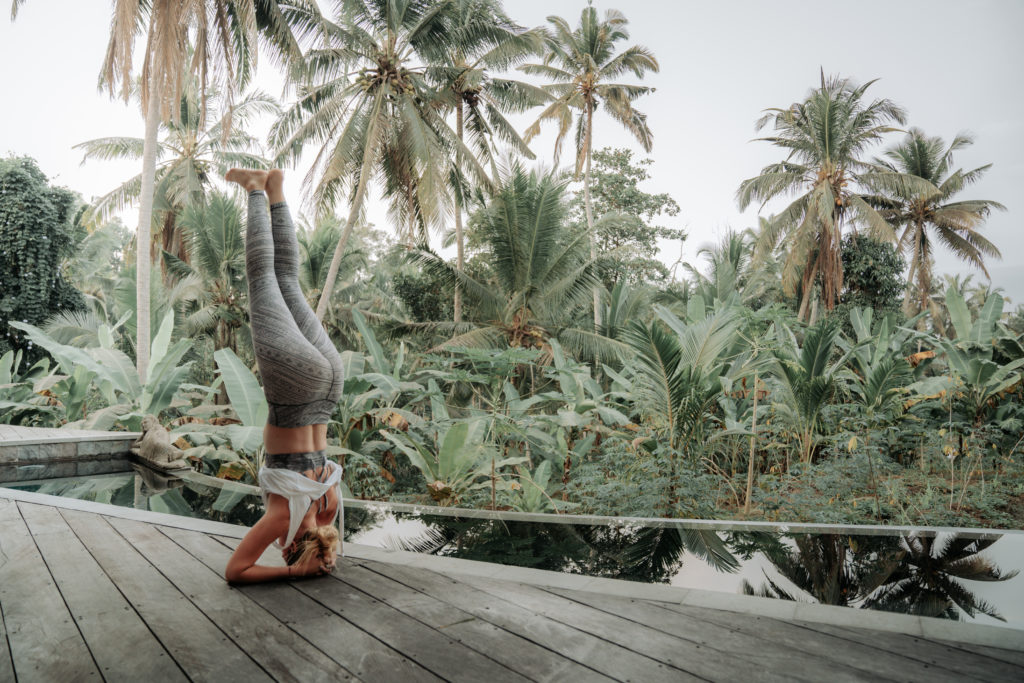 Develop a spiritual practice.
Spiritual wellbeing is the key to breaking the cycle of addiction.
Kevin Griffin says that "addiction can be a misguided spiritual search."
Many of us lack a spiritual approach to life in our modern, western society.
Getting involved in the Sober Girls Yoga community, you begin to learn about the philosophy of yoga.
A study published in 2011 concluded that a yoga practice that includes the yamas and niyamas can provide more relief for anxiety symptoms than asana and pranayama alone (Smith et. al.).   According to Tammy Greer, a researcher for the study from the University of Mississippi, "A spiritual practice can help you find meaning in your life situation, and that can lower stress." (Carol Krucoff)
Learn as much as you can about the addictive habit you are trying to overcome.
When I was getting sober, I read a favorite book again in which the author quit alcohol consumption. I read it every day, until I discovered there is a whole genre of books out there about quitting alcohol. I then basically downloaded every single audible audio book I could find about sobriety. Every day when I was driving back and forth to my job as a teacher in Abu Dhabi, I listened to these audio books.
What they did was reprogrammed my subconscious mind. Even though my brain was craving alcohol, I kept listening to content that told me how bad it was for me.
No matter what addiction you're overcoming, I guarantee you can find some books out there for you on the addiction. Listen and learn as much as you can.
I am a yoga teacher, and I want to touch on the value that a yoga practice can have in overcoming our addictions.
There are five reasons I want to share that yoga can be of benefit:
Yoga balances the nervous system – Yoga is beneficial in part because of its proven ability to impact the nervous system and bring stress relief.
Yoga affects brain chemistry – Dharma Singh Khalsa MD explains that "yoga and meditation can alter the very biochemistry of the brain more directly and efficiently than regular exercise." Not only does yoga stimulate the Relaxation Response, it also invokes a balance of stimulation and relaxation via glandular secretions of endorphins and adrenaline. (Amy Weintraub)
Yoga brings attention to the present moment – Present moment awareness is a key element of relieving symptoms related to many mental health concerns, including anxiety.
Yoga cultivates self-awareness without judgment – Meditation and
 mindfulness teachings help the practitioner to invoke the observational distance necessary to release identification with emotional patterns. This brings the student vital knowledge, increased acceptance and peace, and a pathway for change. "If you are willing to take a step back and observe your mood, you are practicing self-awareness. From here, you can better manage and even overcome your depression by developing a practice that suits your feelings." (Amy Weintraub)
Yoga leads to an embodied experience – Embodiment is key to yoga's impact on one's sense of well-being. And, as clinical psychology Bo Forbes has found with her patients, embodied insights tend to have a lasting effect on emotional balance and mental health.
Change Your Beliefs
I was on a podcast once where the host asked me the tagline of my journey, and I said, "Belief in your Potential. I wanted to quit drinking and I wanted to build a career in yoga and coaching for many years – but what held me back was myself. I believed I couldn't do it. I believed staying sober long term would be impossible.
Henry Ford said,  ""If you think you can do a thing or think you can't do a thing, you're right."
Beliefs are thoughts and statements that each person perceives as reality, whether
they are true or not.
You might believe you aren't capable of change. As a coach, I'm here to show you that change is possible. I'll help you identify self-defeating beliefs and assumptions that are stopping you from going after what you want.
Helping Others Helps Yourself
One of my favorite spiritual teachers is Gabby Bernstein. I came across a video of hers on Instagram the other day that I found so inspiring. She said,
"When I was first getting sober, I remember my sponsor said to me, when you're feeling down, call someone and see how you can help them.
Because the second that we get ourselves into the service of helping others, we get out of our own way.
When you're feeling helpless, help somebody else.
A lot of us might be feeling stuck. A lot of us might feel anxious. A lot
When we live in that way, we block the source of inspiratio
The fastest way out of these spaces of these places of feeling anxious, blocked, scared and alone, is to help someone else.
So today, if you're feeling funky, pick up the phone and see how you can help someone.
Do something that will allow you to get out of your own head and into the service of others."
This was the biggest benefit to me – when I was quitting drinking I got really engaged in a private sober Facebook community and shared my story with others.
I have now developed yoga teacher training courses and sober mentorship courses – for people in long term sobriety looking to give back. Helping others helps yourself.
Share about your journey. Try to connect with someone else along the same journey. Cheer them on.